AVENT NATURAL TWIN FIRST 0 MONTH TEAT SCF657/23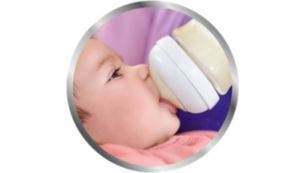 Natural latch on due to the wide breast shaped nipple
The wide breast shaped nipple promotes a natural latch on similar to the breast. Designed to give a more comfortable and contented feed for your baby.
Skin-soft teat designed for a natural feed
The skin-soft nipple material closely resembles the feeling of the breast, making it easy for your baby to combine breast and bottle feeding.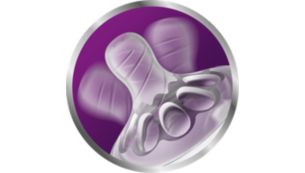 Flexible spiral design combined with comfort petals
The spiral design combined with our comfort petals inside the nipple increases softness and the flexibility allowing natural tongue movement without nipple collapse. Designed to give your baby a more comfortable and content feeding.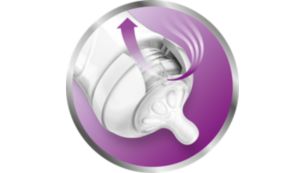 Unique anti-colic valve technology
Reduces fussing and discomfort by venting air away from baby's tummy.
Slower flow nipple for your newborn baby
A smaller hole size delivers a more controlled flow rate for slower drinking babies. The Natural First nipple is the ideal flow rate to start bottle feeding your newborn baby.