Privacy Commitments
Customers entrust us with their privacy – whether it's the protection of their personal information, the confidentiality of their private communications or the way we develop our products and services.
The way we handle their privacy is a vital part of our responsibility to customers and how we earn their trust.
We aim to create a culture at Vodafone where employees have a clear understanding of how important privacy is and how to ensure it is protected. Our Privacy Commitments set out the principles that govern our approach to privacy and how we engage with employees, partners and external stakeholders on relevant issues – such as designing products to protect privacy or assisting law enforcement.
Respect
We value privacy because of its value to people. It's about more than legal compliance – it's about building a culture that respects privacy and justifies the trust placed in us.

Openness and Honesty
We communicate clearly about actions we take that may impact privacy, we ensure our actions reflect our words, and we are open to feedback about our actions.

Choice
We give people the ability to make simple and meaningful choices about their privacy.

Privacy by Design
Respect for privacy is a key component in the design, development and delivery of our products and services.

Balance
When we are required to balance the right to privacy against other obligations necessary to a free and secure society, we work to minimize privacy impacts.

Laws and Standards
We comply with privacy laws, and we will work with governments, regulators, policy makers and opinion formers for better and more meaningful privacy laws and standards.

Accountability
We are accountable for living up to these principles throughout our corporate family, including when working with our partners and suppliers.
Privacy policy
About our privacy and cookies policy
Our privacy and cookies policy gets updated from time to time. Whenever we make a change, we'll post this on our website and let you know if there is a material change.
We have revised our privacy and cookies policy, refreshing it to tie in with the launch of our new Privacy Portal.

How to use this privacy and cookies policy
In this policy, we explain how we collect, use, share and protect your personal information when you use our products and services and our website.



Who we are
We are Vodafone Fiji PTE Limited.
In this privacy policy:
"we/us" means Vodafone Fiji PTE Limited
"third party" means someone who is not you or us
"Vodafone Group" means Vodafone Group Plc and any company or other organization in which Vodafone Group Plc owns more than 15% of the share capital

How to contact us
Your opinion matters to us – if you have any questions about our privacy policy or your privacy settings, please submit your query and a member of our dedicated team will respond to you. If you would like to mail us by post directly, send it marked the "VitiKart Privacy Team" to Vodafone Fiji, 168 Princess Road, Tamavua.
CONTACT US
Our principles
Vodafone is committed to respecting your privacy. We take privacy, security, and compliance with data protection and privacy laws seriously.
Here are Vodafone's core Privacy Commitments. We aim to put these commitments at the heart of everything we do.


Personal Information we collect about you
The information we collect about you and how we collect it can vary depending on the products and services that you use and subscribe to, how you have used the products and services, and how you have interacted with Vodafone even if you aren't a customer, or what we have obtained from a third party with permission to share it with us.
Vodafone will process your personal data based on:
Vodafone's legitimate business interests, for example, fraud prevention, maintaining the security of our network and services, direct marketing, and the improvement of our services. Whenever we rely on this lawful basis to process your data, we assess our business interests to make sure they do not override your rights. Additionally, in some cases, you have the right to object to this processing.
Compliance with a mandatory legal obligation, including for example accounting and tax requirements, which are subject to strict internal policies (such as retention periods), procedures, and your right to restrict usage of your data, which control the scope of legal assistance to be provided.
Consent you provide where Vodafone does not rely on another legal basis. Consent may be withdrawn at any time. When you give your consent, you will be given details on how to change your mind or visit the 'Your rights' section of this policy for more information

We will collect your personal information when you, for example:
Buy or use any of our products and services

Use our network or other Vodafone products and services

Register for a specific product or service

Subscribe to newsletters, alerts or other services from us

Contact us through various channels, or ask for information about a product or service

Take part in a competition, prize draw or survey

Visit or browse our website

Have given permission to other companies to share information about you

Where your information is publically available

Are the customer of a business that we acquire
We also collect information from certain organizations, where appropriate and to the extent we have legal grounds to do so. These include fraud-prevention agencies, business directories, credit check reference/vetting agencies, billing calculating agencies and connected network providers.

When you visit our premises, we may also collect information about you on CCTV as part of our security and crime prevention measures.

We use cookies (small text files stored in your browser) and other techniques such as web beacons (small, clear picture files used to follow your movements on our website). For more details on this and how to opt out of these, please see the 'Cookies' section of this policy.

The types of information we may have are, where applicable:
Your name, address, phone and/or mobile number, your date of birth, gender and email address.

Your traffic data. This is data we see as part of providing you with connectivity, like the numbers you call, the time and duration of the call or how you are using data.

Your location data. This can be precise where it uses Global Positioning System (GPS) data or by identifying nearby mobile phone masts and Wi-Fi hotspots and you enable location-based services or features. Or less precise where, for example, a location is derived from your IP address or data such as a post code or name of a town or city.

Your contact with us, such as a note or recording of a call you make to one of our contact centres, a Live Chat, an email or letter sent, or other records of any contact with us.

Your account information, such as dates of payment owed or received, subscriptions you use, account numbers or other information related to your account or included in My Vodafone.

Credential information – we'll collect passwords, hints and similar security information used for authentication and access to accounts and services.

Your preferences for particular products, services and lifestyle activities when you tell us what they are, or we assume what they are, based on how you use the products and services.

See the 'Cookies' section for details on what we collect using cookies, web beacons and other technologies, including ad data.

Information we obtain from other sources, such as credit agencies, fraud-prevention agencies, and from other data providers. This includes demographic data, interest-based data, and internet browsing behavior.
How we use your personal information
We will use your personal information for the following purposes:

To provide you with your service
Processing your order and providing you with your products and services
To process the products and services you've bought from us, and keep you updated with the progress of your order.
To provide the relevant product or service to you. This includes other services not included in your agreement with us (PayPal, for example), services that use information about where you are, and to contact with you messages about changes to the products or services.

Marketing and tailoring our service to you
Marketing
As our customer, we will keep you informed generally about new and existing products and services, send you newsletters or white papers, invite you to participate in market research or let you know about offers, promotions, prize draws or competitions. We tailor these messages for example, based on the sorts of products and services you've bought from us.
If you have given your permission, we will also contact you to let you know about products and services. There are various ways that we may do this – for example, by email, post, phone, text, picture message or notifications through our apps.
Advertising online
To deliver advertising that is relevant to you, you'll also see targeted advertising online based on the use of cookies. This is known as interest-based advertising. It can be on websites belonging to the Vodafone Group, those of other organisations as well as other online media channels such as social media sites. We may also combine data collected via the cookies with other data we have collected. If you don't want any information processed through the use of cookies, check the 'Cookies' section in this Privacy Portal. It explains how to control and opt out of cookies.
Remember that opting out of interest-based advertising doesn't stop advertisements from being displayed – it's just that they won't be tailored to your interests.
You will also see advertising in your social media, for example in your Facebook or Twitter feed. If you don't want to receive this advertising, go to the relevant platform's ad settings.
Research and analytics
We use a variety of analytics methods including what is commonly referred to as "Big data analytics". Big data analytics are mathematically driven analysis techniques on large and varied data sets (that is why it is "big" data) to uncover hidden patterns and hitherto unrevealed trends. At Vodafone we take governance of big data analytics seriously. Our data scientists are required to sign up to a Code of Ethics. We have a strict use case process that requires that privacy and data protection law checks are carried out before any use case commences. We also have strict rules ensuring that personal information is anonymised or de-identified at the appropriate stage in the process.
We use our analytics to, for example:
Conduct market research and to carry out research and statistical analysis, including to monitor how customers use our networks, products and services;
Frame our marketing campaigns and determine how we might personalise those;
Provide reports to third parties (such reports don't contain information which may identify you as an individual). For example, as part of Vodafone Analytics
Fraud prevention and security
We will sometimes need to profile you, for fraud and security purposes.
Fraud prevention and security
We will process your personal and traffic data in order to protect against and detect fraud, to protect and detect misuse or damage to our networks, to recover debts or trace those who owe us money resulting from the use of our services.
Keeping your personal information secure
We have specialised security teams who constantly review and improve our measures to protect your personal information from unauthorised access, accidental loss, disclosure or destruction.

Communications over the internet (such as emails) aren't secure unless they've been encrypted. Your communications may go through a number of countries before being delivered, as this is the nature of the internet.

We cannot accept responsibility for any unauthorised access or loss of personal information that is beyond our control.

We'll never ask for your secure personal or account information by an unsolicited means of communication. You're responsible for keeping your personal and account information secure and not sharing it with others.

Our website may provide links to third-party websites. We cannot be responsible for the security and content of such third-party websites. So make sure you read that company's privacy and cookies policies before using or putting your personal information on their site.

The same applies to any third-party websites or content you connect to using our products and services.

You may choose to disclose your information in certain ways such as social plug-ins (including those offered by Google, Facebook, Twitter and Pinterest) or using third-party services that allow you to post reviews or other information publicly, and a third party could use that information.

Social plug-ins and social applications are operated by the social network themselves and are subject to their own terms of use and privacy and cookies policies. You should make sure you're familiar with these.
Request Deletion of Data

Request to deactivate your VitiKart user account
Simply email us the following at support@vitikart.com.fj :
Name:
Registered Email:
Reason for Deactivation:
Any other feedback:
Request to delete your VitiKart account
Simply email us the following at support@vitikart.com.fj :
Name:
Registered Email:
Reason for Deletion:
Any other feedback:
Delete the Vitikart App Cache and App Data on Android.
Follow these steps to Clear App and Cache Data:
Step 1: Open the Settings application on your device.
Step 2: Head Over to Apps Menu
Step 3: Choose Installed Applications
Step 4: Find the VitiKart Application
Step 5: Select it, Move to the Storage Tab
Step 6: Hit Clear Cache (Indigo) to remove cache/Hit Clear App Data to remove app data (Red)
Step 1 Step 2 Step 3/4 Step 5/6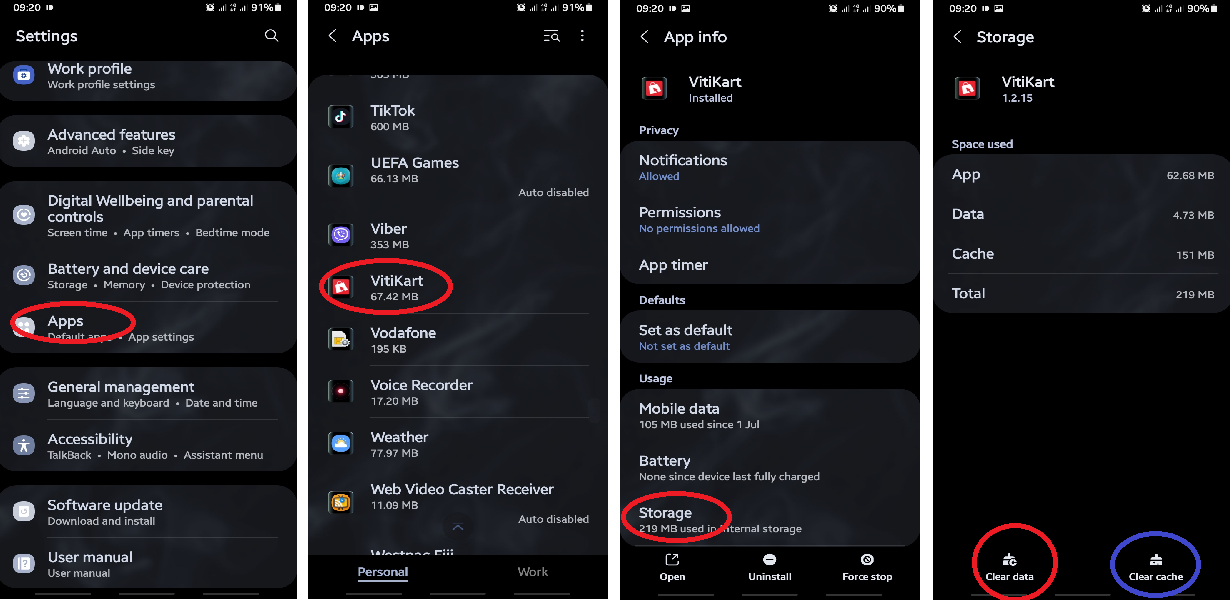 Note: If clearing App Data, the next time you open the application, all your saved information, accounts and passwords will be forgotten. If clearing App Cache, it will delete all the files from VitiKart, but you will not be logged out of your account.
Delete the Vitikart App Cache and App Data on iOS
To clear App Cache and App Data for VitiKart on iOS, simply uninstall and reinstall the app:
Navigate to Settings > General > iPhone Storage and click on any app. You'll see how much of its storage space is Documents & Data, versus the app itself.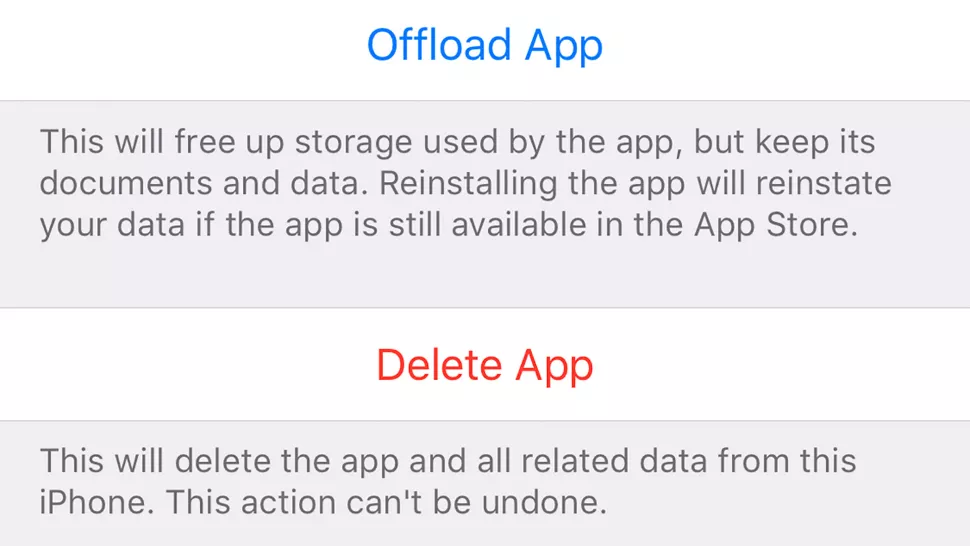 Normally we recommend offloading older apps, which removes the app but keeps your saved data for later. In this case the saved data is the problem, and fully deleting the app is your best recourse.
Hit Delete app twice, go to the App Store to search for it, then redownload it. The Documents & Data should be reset to only a few MB – at least until you start browsing or importing user data again.
Clear Browsing Data from Chrome (Windows)
Click the Tools menu (three dotted lines in the upper-right corner).
Select History.
Select Clear Browsing Data from the left-hand side. Set the Time Range set to All Time. Check-mark Browsing History and select Clear Data.
If on a Windows computer, close and re-open Chrome to save your changes. If on an Apple computer, go to the Chrome menu on the top menu bar and select Quit for the changes to take effect.
Clear Browsing Data from Chrome (Android)
On your Android device open Google Chrome and follow these steps:
Tap on the three vertical dots in the upper right-hand corner.
Now, tap History.
Next, tap Clear browsing data…in the new window.
Confirm when finished.
All of your Google search history and website history will disappear after performing these steps, so make sure you saved any sites, data, etc. elsewhere.
Clear Browsing Data from Safari (iOS)
For iPhone users, open Google history and follow these steps to clear your history:
Tap More in the lower left-hand corner. Next, tap on History.
Then, tap Clear Browsing Data…on Cookies and iMessage Search History.
All of your browsing history on your iPhone in Chrome will be deleted after performing the steps shown above.
Clear Browsing Data from Safari(macOS)
Click on Safari on the top menu bar.
Click Preferences.
Click the Privacy tab.
Click Manage Website Data...
Click Remove All.
Click Remove Now.
Go to the Safari menu on the top menu bar.
Select Quit to close Safari and save your changes.
Last updated: 13th October, 2021